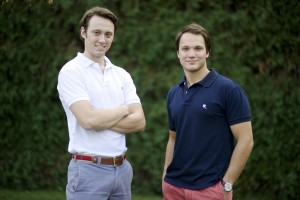 Semper Vincit: Always Conquer- this is the ideal that The Versatile Warrior was developed on.  An iron-clad belief that in whatever challenges life presents, face them head on with confidence, determination and courage!
The Versatile Warrior was founded in 2009 by brothers James and Jonathan Martone, two young entrepreneurs who share a passion for fine clothes and a vision of developing a clothing line that reflects the integrity and values of the man who wears them. Embodying these ideals, The Versatile Warrior was created for the modern day warrior; a dynamic individual unrelenting and unwavering in the pursuit of his goals and one who excels in all facets of his life: professional, athletic and social.
The Versatile Warrior is a clothing line tailored to the modern day warrior; offering clothes embodying timeless tradition mixed with modern comfort.  We believe that clothes say a lot about the individual who wears them, speak volumes in yours.
Follow us on Twitter and Facebook to receive the latest news, exclusive promotions, live updates and special sneak peeks of new products.
A new day, a new challenge . . . come be The Versatile Warrior!
James and Jonathan Martone